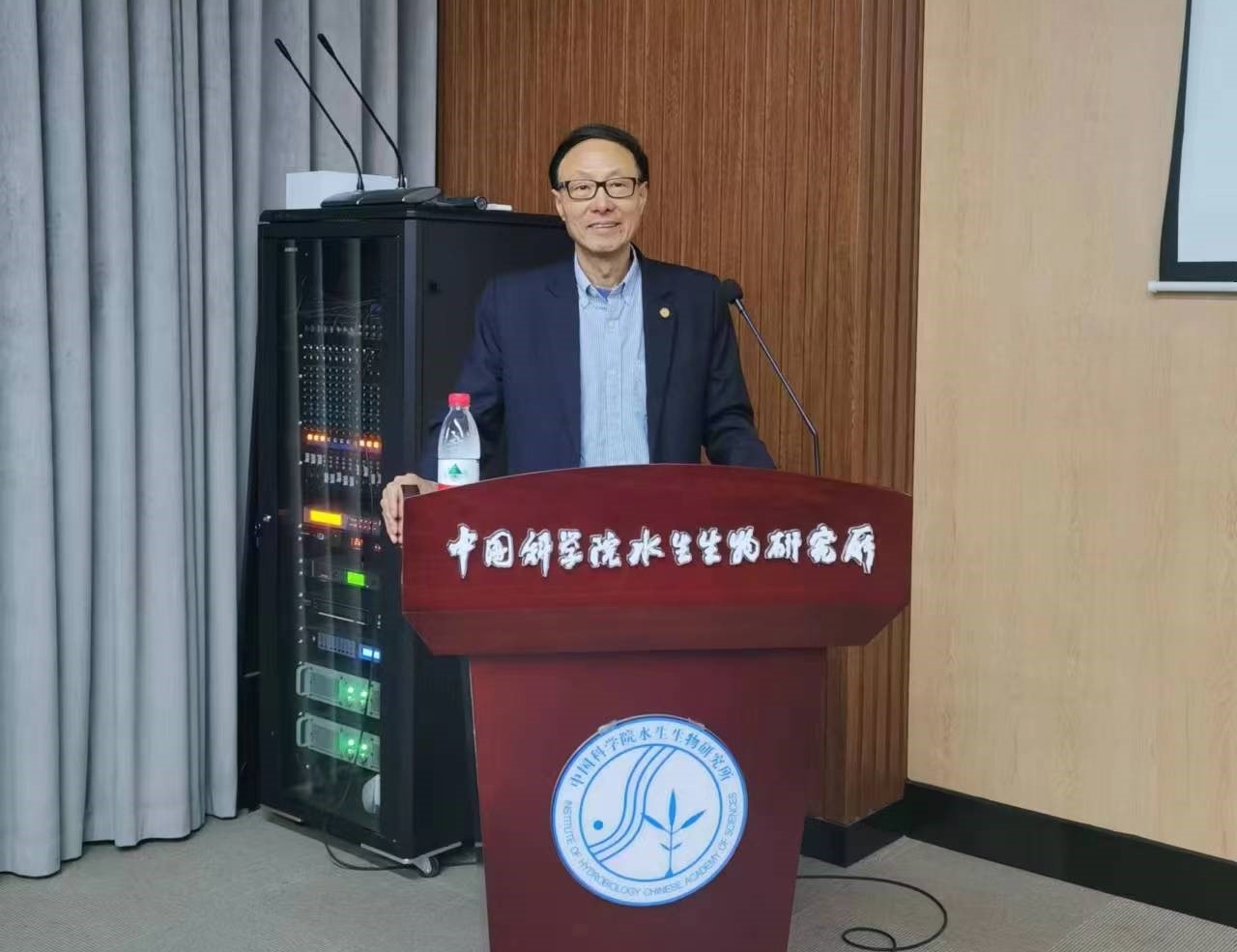 Professor Xiaochun Le from the University of Alberta, Canada visited IHB on March 22, 2023. (Credit: IHB)
Professor Xiaochun Le from the University of Alberta, Canada was invited to the Institute of Hydrobiology (IHB) of the Chinese Academy of Sciences for an academic exchange on March 22, 2023, and delivered a speech titled "Analytical innovation advancing environmental health research" to researchers and graduate students.
Prof. Le has been focusing on the application of new and efficient analytical methods in the field of environmental health. During his presentation, he shared classic research cases from his team.
First, Prof. Le introduced the research progress of arsenic separation, identification, metabolic process, and carcinogenic mechanism. Arsenic is widely distributed in the natural environment, and the toxicological effects caused by different forms of arsenic compounds vary greatly. To address this issue, Prof. Le's team established a technology that combines High-Performance Liquid Chromatography-Inductively Coupled Plasma-Mass Spectrometry (HPLC-ICP-MS) and High-Performance Liquid Chromatography-Electrospray Ionization-Mass Spectrometry (HPLC-ESI-MS) to clarify the metabolic types and processes of Roxarsone in chicken's body. Moreover, they further clarified the carcinogenic mechanism of trivalent arsenic, including the influence of arsenic on DNA damage and repair, and the interaction between arsenic and protein.
Prof. Le also introduced a single-tube detection method for SARS-CoV-2 developed by his team. This method combines the Reverse Transcription Loop-Mediated Isothermal Amplification (RT-LAMP) and CRISPR-Cas system technology, which only requires one temperature control and can be observed under UV light to detect fluorescence in positive samples. The detection time only takes 40 minutes, and it can effectively avoid false positives, achieving 100% accuracy.
Professor Xiaochun Le is a fellow of the Royal Society of Canada, an outstanding professor at the University of Alberta's Department of Analytical and Environmental Toxicology, and the director of the department. He has published more than 300 articles in the fields of life analytical chemistry, environmental science, molecular toxicology, public health, and health. He has won numerous awards, including the E.W.R. Steacie Fellowship, Maxxam Award, and Environment Research and Development Award.