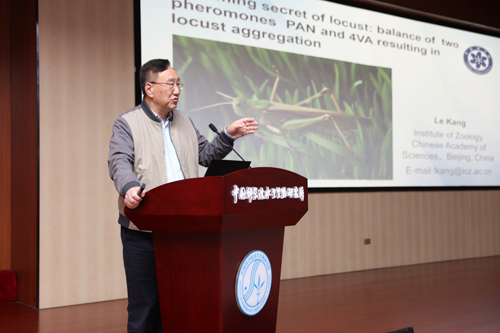 As the seventh keynote speaker of the 90th anniversary lecture series of Institute of Hydrobiology (IHB) of Chinese Academy of Sciences, Prof. KANG Le gave a presentation on the secret of locust aggregation.
Prof. Kang is an internationally recognized scientist in ecological genomics of insects, and a member of the Chinese Academy of Sciences.
In his presentation, Kang explained their search for aggregation pheromones. They found that 4-vinylanisole (4VA) produced by the locust allured locusts of all sexes and ages.
His studies open the road for the long-term control of the pests, and develop ecology, the traditional discipline, by genomics.
Prof. Kang successfully resolves the ecological questions of insect adaptation to environmental variation with the model of the migratory locust, a worldwide notorious pest species, by integrating multiple approaches from molecular biology, physiology to genomics. He also makes an outstanding accomplishment in disclosing the molecular regulatory mechanisms and epigenetic modulation of locust phase changes, which are very typically phenotypical plasticity in insects.
He is ranked the most cited scientists in agriculture and biology by Elsevier (Scopus 2014-2017). He received several important awards including the prestigious Life Science & Biotechnology Prize, Ho Leung Ho Lee Foundation (Hongkong) in 2011, the International Distinguished Scientist Award of the Entomological Society of USA in 2013, and Tan's Achievement Award for Life Sciences and fellow of Entomological Society of America in 2015.