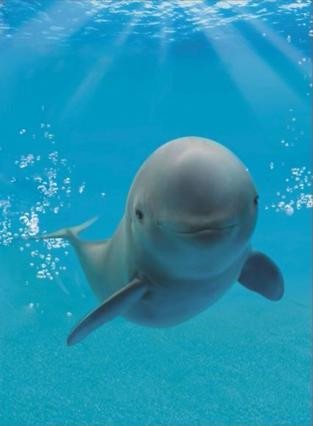 Tao Tao, the first Yangtze finless porpoise to be born in captivity, recently celebrated his 18th birthday with staff members at the Institute of Hydrobiology under the Chinese Academy of Sciences in Wuhan, Hubei province.
Over the past 18 years living at the institute, Tao Tao has made important scientific research contributions to the research of physiology, acoustics, molecular biology and other aspects of Yangtze finless porpoise protection, experts said.
The birth of Tao Tao brought researchers the chance to observe the overall growth of finless porpoises born in captivity for the first time.
After 18 years of follow-up training, researchers have collected a series of physiological and biological data about Yangtze dolphins, which provide comprehensive scientific support for the physiological health care and protection practice of the critically endangered species.
Tao Tao also made great contributions to the research of artificial breeding technologies as he has become the father of two Yangtze finless porpoises, both born in captivity.