Finless porpoises have thrived in the Yangtze for about 300,000 years and are the only surviving mammals in the river. Today the Yangtze finless porpoise is an endangered species.
The number of Yangtze finless porpoises, also known as narrow-ridged finless porpoises, has shrunk to 1,040 in the wild. As their population drops by nearly 14 percent each year, the threat of extinction within the next five to ten years looms. The mammals are rarer than China's giant panda, and experts predict they could be extinct within a decade.?
Experts say human activities are making life difficult for Yangtze finless porpoises. Busy shipping traffic, over-fishing, port construction, and sand excavation in the river have often been blamed for the species' current predicament.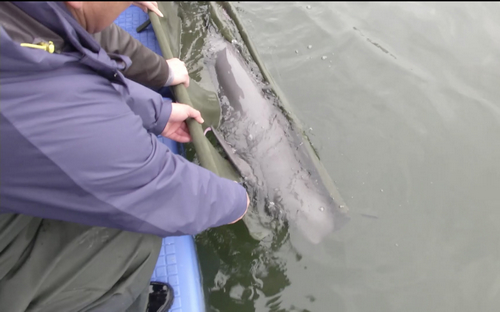 Workers relocate a Yangtze finless porpoise to Tian'ezhou Natural Reserve. /CGTN Photo
Now efforts to to save the ancient species from extinction have started.
Relocating the mammals to their natural habitat is a proven, although temporary, method. China has built three natural reserves in traffic-free areas of the Yangtze River. The porpoises are relocated to the reserves when they're found injured. So far, 85 are living there.
Wang Ding, a senior researcher of the Institute of Hydrobiology, under the Chinese Academy of Sciences, hopes that the Yangtze River can return to being a natural habitat for the porpoises. "At that time, we will release the finless porpoises in our natural reserves backin to the mainstream of the Yangtze River to reestablish the natural population."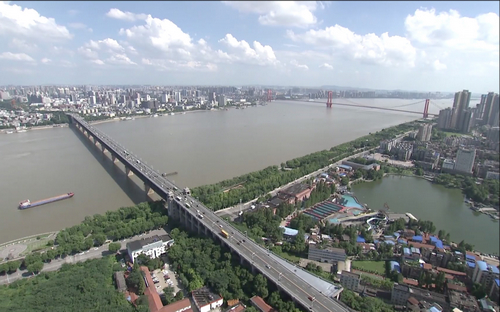 CGTN Photo
Finless porpoises are on top of the Yangtze River's food chain. But food is becoming scarce as fish die in the river. On June 1, 2016, the Ministry of Agriculture published a draft plan to ban fishing in the river from 2020.
Huang Qiaoyun, a CPPCC member suggested that an environmental red line should be drawn up on the Yangtze River, a limit that should not be crossed.
For many years people have exploited the economic benefits provided by the Yangtze River, China's so-called "golden waterway". Many believe it's now time to focus on its protection. (CGTN)