The Hubei Intellectual Property Bureau (HIPB) recently announced that the patent with the title of "A Method and Device Supplemented Carbon source for Integrated Vertical-flow Constructed Wetland" (Patent Number: ZL 200810246308.9) won the 10th Hubei Patent Gold Award. Institute of Hydrobiology (IHB) of Chinese Academy of Sciences is the patentee and WU Zhenbin, HE Feng, XU Dong, et al., are the inventors.
The patent is an essential authorized invention of China in the field of water treatment ecological engineering. It exploits a new thought of strengthening denitrification by carbon source control in constructed wetland, forms a system strategy consisting of target control of solid carbon source, joint control of carbon and oxygen, sewage biochemical enhancement treatment and ecological restoration of water body, and so on.
A series of technology including microbial immobilization, in situ sediment restoration, and slow-release algaecide have been studied and developed. They have important value to the protection of water environment. Over the past ten years, the technology has been widely used in the sewage advanced treatment, treatment of non-point source pollution and the restoration of contaminated lakes and urban river, etc. It has promoted the extensive research and large-scale engineering application of constructed wetland in China, and achieved remarkable environmental and social benefits.
The evaluation criteria of the Hubei patent award not only emphasize the technical level and the innovation height of the patent, but also pay attention to the engineering application as well as the economic and social benefits. This is the first Hubei Patent Gold Award honored to IHB.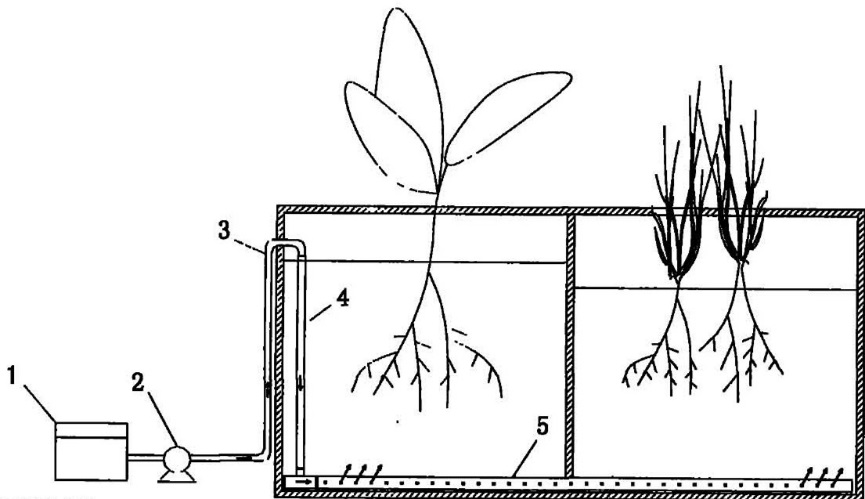 1- dissolving tank of carbon source, 2- metering pump, 3- connection hose,
4- breather pipe in integrated vertical-flow constructed wetland, 5- escape pipe with hole in pipe wall
Fig.1 Processes of the Patent Technology