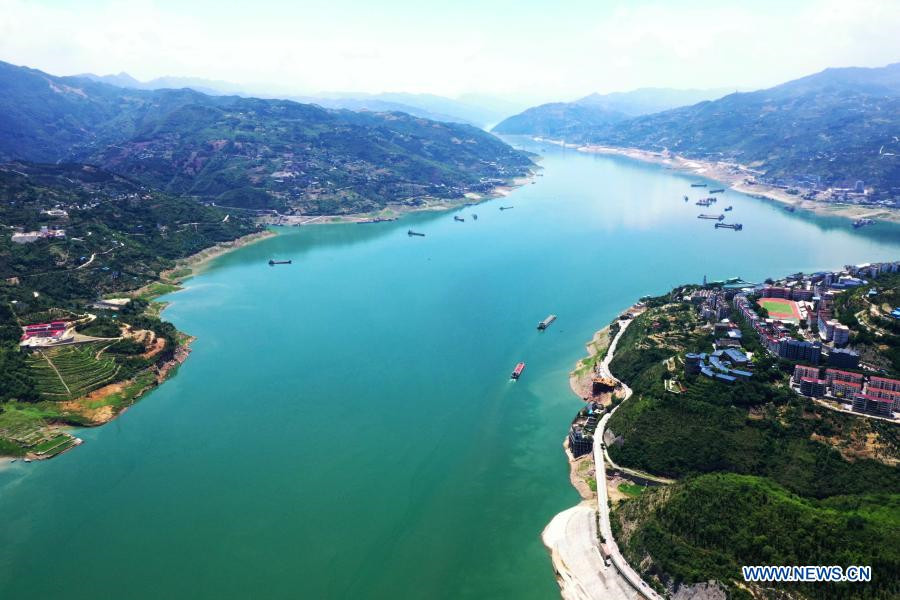 Aerial photo taken on May 29, 2020 shows the view of Qutang Gorge, one of the Three Gorges on the Yangtze River, in Southwest China's Chongqing. [Photo/Xinhua]
River's population not yet off hook as experts call for enhanced moratorium
Fish experts called for protecting the Yangtze River's fish stocks by enhancing the fishing moratorium and aquaculture production during the ongoing 14th Meeting of the Conference of the Contracting Parties to the Ramsar Convention on Wetlands in Wuhan, Hubei province, on Tuesday.
The meeting runs from Nov 5 until Sunday, with its main sessions in Wuhan and sideline meetings in Geneva, Switzerland.
Cao Wenxuan, a fish biologist and academician of the Chinese Academy of Sciences, said via video during a Yangtze River protection forum that consensus should be reached from children to the elderly that fish in the river are wild creatures and need protection.
"Despite positive results, the fishing ban's effect is far from enough," the 88-year-old said.
He said he'd made the conclusion because the list of Wild Animals under Key Protection, updated last year, had dozens of fish added to it as protected animals, indicating that their living environment has deteriorated.
Cao was one of many scientists to first appeal for a 10-year ban on fishing in the Yangtze River.
Since the 1980s, many rare animals in the Yangtze River, including the Baiji dolphin and Chinese paddlefish, have disappeared, he said.
In 2003, fisheries departments imposed a three-month fishing moratorium in the middle and lower reaches of the Yangtze River from April to June each year.
However, after field studies, Cao found that most of the fish remaining were juveniles, indicating that the three-month moratorium was not enough to protect large fish.
In 2020, the central government issued a 10-year fishing ban in the Yangtze River. To implement the ban, local governments have found alternative employment for about 231,000 fishermen, according to Ma Yi, an official from the Ministry of Agriculture and Rural Affairs, adding that eligible retired fishermen can receive basic pensions.
Special campaigns have cracked down on illegal fishing in the Yangtze River Basin and on the sales of illegal catches. This year so far, illegal fishing criminal cases reached about 6,500, he said.
Yangtze finless porpoises have been increasingly observed in Poyang and Dongting lakes and the middle and lower reaches of the river, he added.
Gui Jianfang, an expert in fish breeding and also an academician of the Chinese Academy of Sciences, said at the forum that people still have fish to eat after the ban in the river thanks to genetic breeding and aquaculture.
Since the Fisheries Law began to focus on aquaculture in 1986, the output of aquaculture fisheries has far exceeded the output of capture fisheries, he said, adding that aquaculture production accounted for more than 80 percent of total aquatic products last year.
"The production allows the Yangtze River to rest and its fish resources to recuperate," he said.