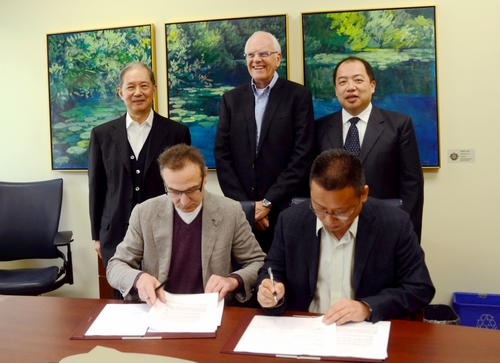 The MoU was signed by Prof. XIE Shouqi, deputy director of IHB, and Prof. Steve Perry, dean of the Faculty of Science at uOttawa. (L: Prof. ZHU Zuoyan; M: Prof. Thomas W. Moon; R: Dr. Yuwei Wang)
Institute of Hydrobiology, Chinese Academy of Sciences (IHB) signed a Memorandum of Understanding (MoU) with the University of Ottawa (uOttawa), Canada on Oct. 13, 2014, to promote excellence through multidisciplinary and multi-institutional collaborations and build a partnership consistent with the strategic goals and values of both institutions.
The MoU mainly focuses on the mobility of professors and research personnel, generation of external research funding, production and dissemination of knowledge. Other items such as the joint symposia on fish/aquatic physiology, exchange programs for staff, doctoral students and post doctoral fellows, joint research projects and joint research center are specified in the MoU. It is hoped that both sides can compliment each other in aquatic biology and thus establish a stable cooperative partnership.
IHB and uOttawa started partnership in recent years. Prof. Vance Trudeau from the Faculty of Science, uOttawa has had a close relation with IHB Prof. HU Wei's research group. They are now jointly conducting an International Research Acceleration Program which is funded by uOttawa. In order to push forward the bilateral collaboration, Prof. Perry visited IHB this June. Both sides had some initial collaborative intentions which laid the foundation for the formal signing of the MoU.
The University of Ottawa, establish in 1848, is a bilingual and comprehensive medical-doctoral university, and a leader in Canada in research intensity, interdisciplinary activities and innovation. uOttawa's Faculty of Science has emerged as a national leader, positioning itself firmly within the global context of modern science.
Founded in 1930 and located in Wuhan, IHB is a comprehensive academic research institution devoted to the study of the life processes of inland aquatic organisms, environmental protection and the utilization of biological resources. It is China's only comprehensive research institution specializing in the studies of inland aquatic organisms.