By Sena S. De Silva
Deakin University, Australia
Good morning;
I thank the organisation COMMITTEE FOR GIVING ME THE OPPORTUNITY TO ADDRESS THIS esteemed gathering. Before I proceed any further let me take this opportunity to congratulate Professor Dr. YIN Zhan in being appointed as the Acting Director General of this most renowned institute ad I wish you the very best in guiding the destiny of this institute in the coming years.
Prof. YIN Zhan, Honourable Director of the IHB, Prof ZHANG Xianliang, Director General of Fisheries of the Ministry of Agriculture and Rural Affairs, China, and Directors of many renowned institutions, in China and Internationally, that are devoted to Fisheries and Aquaculture sectors, my erstwhile fellow editors, Academicians GUI Jian-Fang and TANG Qisheng, and Professors LI Zhongjie and LIU Jiashou, friends, colleagues and distinguish guests.
Today is a momentous day, if not the most momentous day in my professional career that has spanned over 40 years in the academia in Sri Lanka, Scotland, Singapore and Australia, and as Director General of the intergovernmental agency, The Network of Aquaculture Centres in Asia- Pacific (2006-2011) of which China is a leading member nation, and giving leadership and actively participating in many projects across many Asian nations that are too many to name, and contributing to Editorial work of reputed international journals most notably serving as the Editor –in–Chief of the journal, Reviews in Aquaculture, with the second highest Impact Factor among all fisheries and aquaculture journals published globally.
I have been a main driver in the project that lead to the current publication, which has taken nearly two and half years to come to fruition, through the efforts and endeavours of many parties too lengthy to name at this juncture. We hope this landmark publication will be useful to every one and all involved directly in the development of the aquaculture and related sectors not only in China but globally. It is a pity, regrettable and unfortunate that I am unable to grace this momentous occasion due to a prevailing medical condition. However, in human endeavour individuals and or individuals working in groups in tandem make discoveries and inventions, produce landmark treatises that will provide reference material for decades, if not centuries, and all these collectively account for the progress of the human kind. As such finally, it is the deeds and achievements and the establishments that are the important entities, the individuals of course will be acknowledged with due respect when the occasion demands.
Director, let me now take a few minutes, if I may, to apprise this learned audience of my connections and the lasting relationship with Chinese colleagues in the fisheries cum aquaculture sector. I was privileged to visit China to attend the Chinese Society Symposium in Fisheries and Aquaculture in 1983. Then China was a poor country, making endeavours to shed poverty and open to the rest of the world. This symposium was attended by three foreigners myself, Dr, V.G. Jhingram of India and Dr. Chiba from Japan. It was obvious to me that there were three groups of scientists participating- western educated, highly qualified in major fields with high command of English language skills, a second category, middle aged, 40-50 years old attired in Chairman Mao's uniforms who lacked English skills, and the third category was the few young scientists who have just qualified in western countries and returned to China, with very competent English skills. This was the beginning of my connection and on attending this symposium it made me rather curious to learn more about China.
On my return I dwelled into the treatises of the British embryologist‐cum‐biochemist, Sir Joseph Needham that dealt with the contributions of China to Science and Human Civilization. All this made me China will have much to offer to the fisheries and aquaculture sectors in the coming decades and was determined to follow and if possible contribute to this progress. On a lighter note I must confess the best ever banquet I ever attended was at this symposium.
I was lucky to be appointed as the Senior Science Consultant to a FAO funded project to work at the then Reservoir Fisheries Research Institute, of the Ministry of Water Conservation, for 8 months in Wuhan. This eight month stint was in three stanzas and gave me the opportunity to visit many reservoirs, meet reservoir and aquaculture communities, conduct courses in reservoir fisheries management to Reservoir Fisheries Institute Staff, liaise with the staff and endeavour to analyse data gathered over the years for publication in international journals. Mind you this was the era when there was heating of public places were limited to those provinces north of the Yangtze River; needless to say Wuhan got very cold in the winter and it was fun. This consultancy was the nucleus for my collaborations that were to follow. I made a lot of friends and facilitated the career development of young scientist one of whom is my good friend, colleague and my brother Professor Liu Jiashou, who is probably the leading reservoir fishery scientist in China and of course well recognised internationally.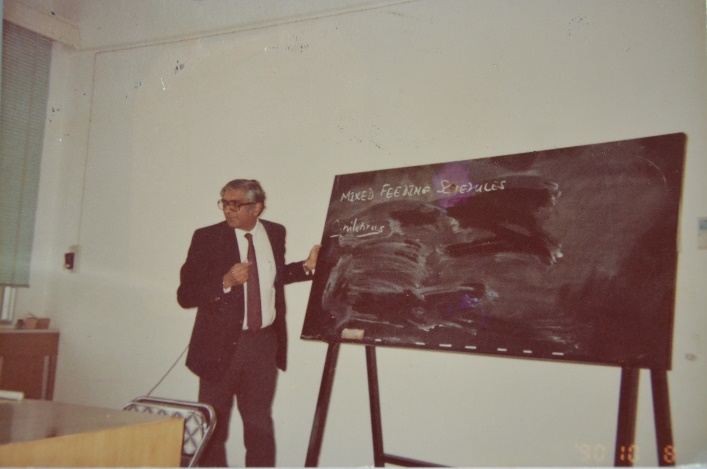 Delivering a guest lecture on Fish Nutrition, at the IHB, Wuhan in 1987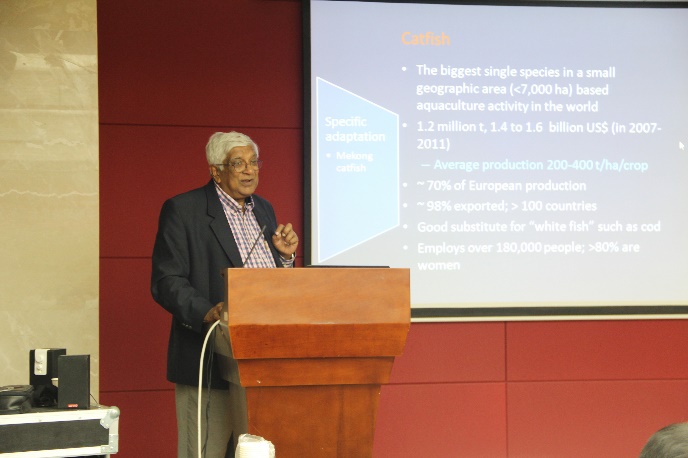 Delivering a guest lecture on Aquaculture and Biodiversity, at the IHB, Wuhan in 2014
FisheriesResearch, 13 (1992) 369-380
Elsevier Science Publishers B.V., Amsterdam
369
Possible yield-predictive models based on
morphometric characteristics and stocking rates
for three groups of Chinese reservoirs
Sena S. De Silva", Yiongtai Linb and Gangshen Tar&'
aFocul~y o/aquaric Science, Deakio Umversity. P.O. Box 423. Warrnambool. Vie. 3280. Australia
bReservoir Fisheries Research Inslimte, Minisry of Water Resources, Wuchan. Wuhan. Hubei
Province 430073. PeapIeS Republic of China
(Accepted21 October 1991)
ABSTRACT
De Silva, S.S., Lin, Y. and Tang, G., 1992. Possible yield-predictive models based on morphometric
characteristics and stocking rates for three gtoups of Chinese reservoirs. Fish. Res., 13: 369-380.
Data from three groups of reservoirs from mainland China, from Guangdong Province (2l-32'N;
IOS-lIl"E), Hubei Province (30-32-N; LOB-I l7"E) and four other provinces grouped together,
collected over a varying number of years, on rzic?roi: morphometry, stocking rates and yield are
analyzed with a view to developing yield-prediction models ar.d stocking strategies.
In all three groups of reservoirs, the mean annual yield per hectare was related to area, or to the
area: depth ratio, in a curvilinear fashion. The above relationships were considerably improved when
the stocking rates were incorporated into the computations, when multiple regressions (PcO.01)
were evolved for yield to area and stocking rates.
For three reservoirs where annual yield and stocking rate data were available, the yield was found
to be related to the stocking rate in the previous year. The relationship was best depicted by a quadratic
curve. The optimal stocking density for maximum yield was apparently related to reservoir
size, the optimum stocking rate being considerably Figher for small reservoirs.
INTRODUCTION
First international publication on reservoir fisheries in China, done in conjunction with scientists from the reservoir Fisheries Research station, Wuhan, 1991
My connections with China furthered when I was the coordinator of the Asian fisheries network, funded by the International Development Research Centre (Canada), which brought me into close working relationships with the Freshwater Fisheries Research Centre, Wuxi. I lectured in many of the international courses conducted in Wuxi, and nurtured the links with NACA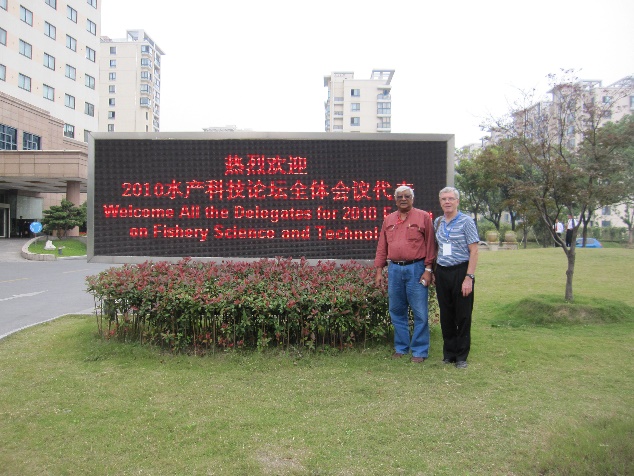 Attending meeting in Wuxi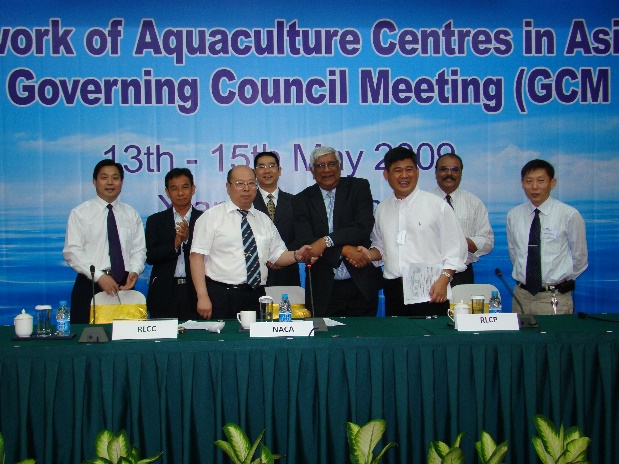 The NACA GC Meeting in 2009 in Fujian
The pinnacle in my connections with China in the fisheries and aquaculture was when I was awarded a Visiting Professorship in 2014 for Senior International Scientists by the Chinese Academy of Sciences, tenable at the Institute of Hydrobiology, Wuhan. I was humbled by this award but it helped us further our collaborative work and of course consolidated the first steps towards the publication of the book.
| | |
| --- | --- |
| | |
I used my time during this Visiting professorship, delivering lectures on key issues on aquaculture and environment, impacts on climate change on aquaculture and biodiversity issues in relation to aquaculture in many universities and research institutions in the country. My main contribution, apart from working on the book was to collaborate with young scientists at the IHB to publish their own research in international journals and also facilitate in publishing rebuttals relevant to certain unfounded critiques on Chinese aquaculture, and also make aware of the modern trends in Chinese aquaculture, that is very much contrary to the thinking in the Western world.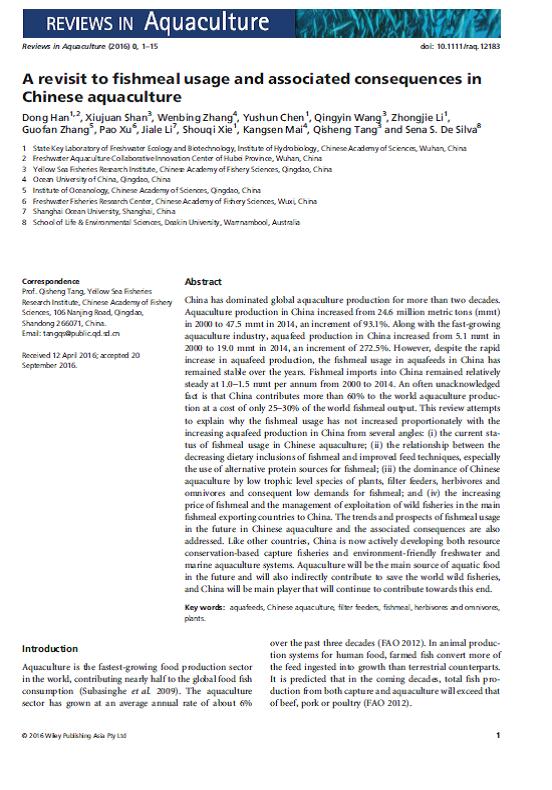 Director, I thank you and the organisers for giving me this opportunity to address this audience. I hope the book will be well received, but understand that there will be some criticisms; this is to be expected. I love coming and working in China for more than one reason, such as this and many more:
Thank you and all the best.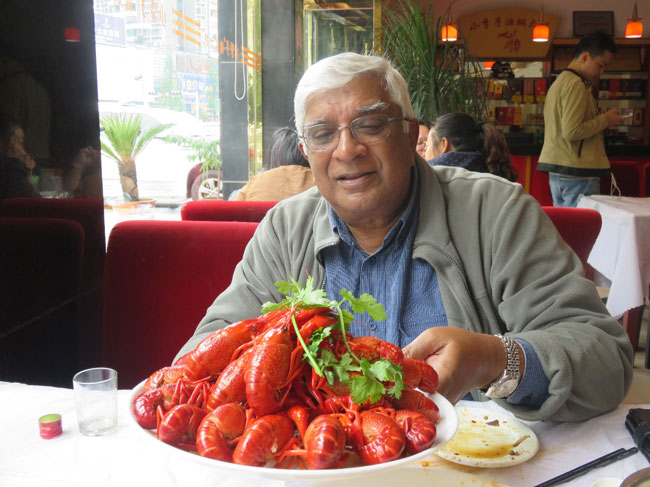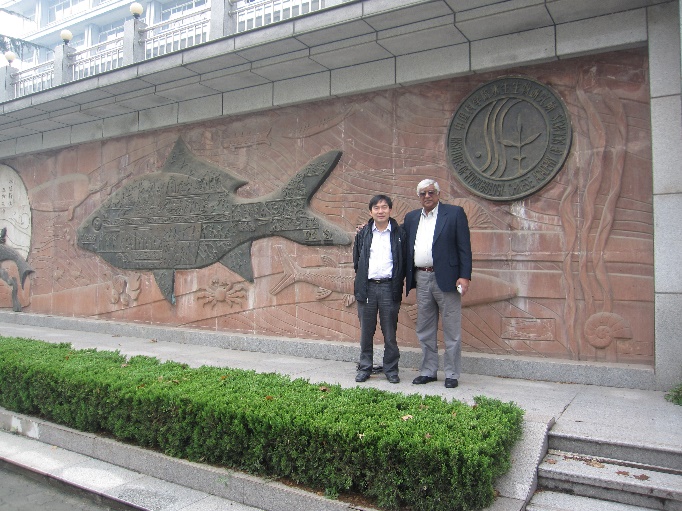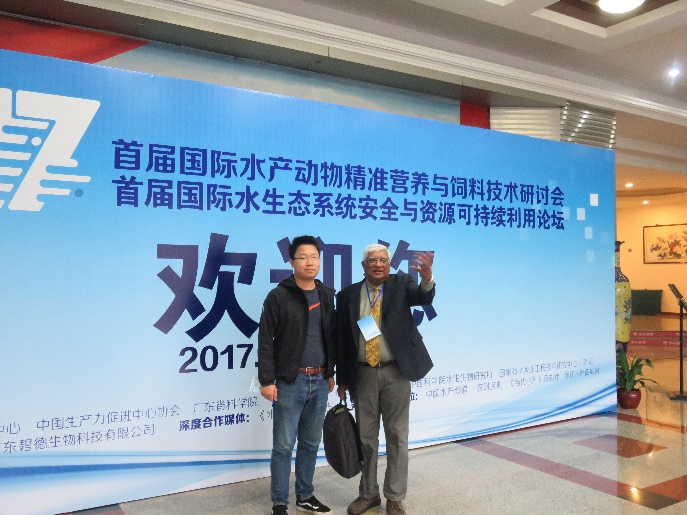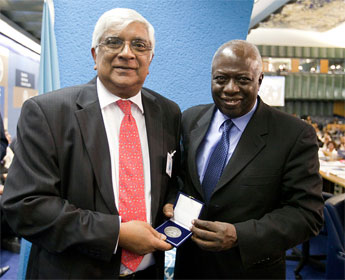 Receiving the Margarita Lizárraga Medal for the biennium 2010-2011 at the Thirty seventh
Session of the FAO Conference from Mr Jacques Diouf, FAO Director General (right)