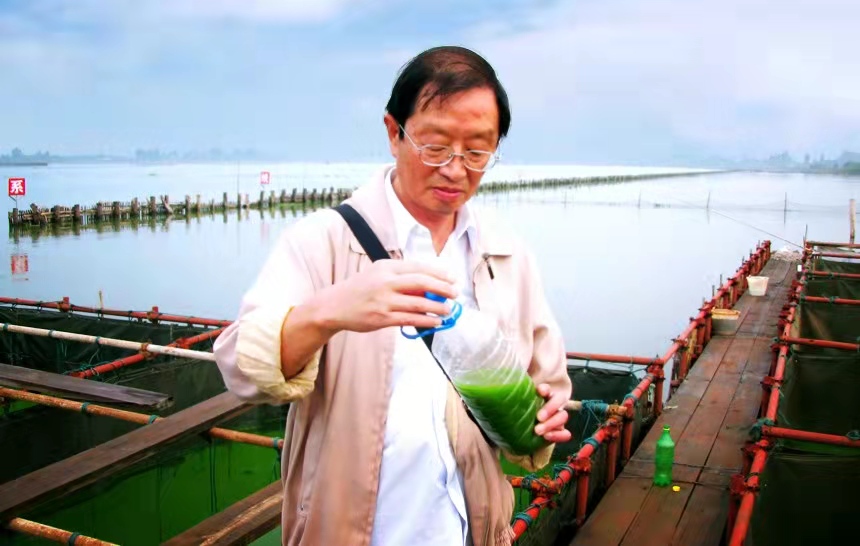 Prof. LIU Yongding (Credit: IHB)
The International Society of Applied Phycology (ISAP) has honored Prof. LIU Yongding the Distinguished Applied Phycologist Award in recognition of his outstanding contributions in applied phycology community. The award was announced at the Seventh Conference of the ISAP, held on August 3, 2021 at virtual platform.
Professor Liu has been engaged in algal research for four decades, and is a pioneer in applying algae knowledge and biotechnology to the real-world problems.
He made remarkable contribution to four areas of applied phycology - environmental biology of algae and algal biotechnology for inland waters, deployment of cyanobacterial restoration biotechnology in drylands, astrobiology of algae, and promotion and consultation on microalgal biotechnology.
Liu obtained his PhD degree jointly from the Institute of Hydrobiology (IHB) of the Chinese Academy of Sciences and University of Konstanz in Germany in 1988. Two years later, he worked as a post-doctoral fellow at Juelin Research Center in Germany.
Liu has been working at IHB since 1993. During 1999 and 2000, he was a senior visiting scholar at the Institute of Ecology, CNRS in France; and in 2000, he was a senior visiting scholar at Paul Sabatier University in France.
Liu has been awarded with national and provincial S&T prizes for 12 times, and has received honorary titles from the state and provincial levels. He holds 46 Chinese patents and has published over 420 academic papers in national and international peer-reviewed journals, and five monographs in applied phycology and its application.
For graduate education, Liu has mentored more than 50 M.S. and Ph.D. students.
In 2012, Liu was awarded by the French government with Academic Palms Award of Commander Degree, and in 2016 he was elected as an academician of International Academy of Astronautics (IAA).

Established in 1999, the ISAP is a non-profit organization that aims to promote research and the dissemination of knowledge concerning the utilization of algae. The Distinguished Applied Phycologist Award was awarded every three year to scientists with remarkable contribution to the field of applied phycology.