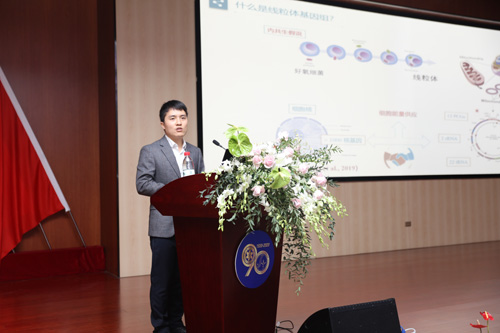 The Yunshui scholarship winner ZHANG Dong gives a lecture at IHB, Oct. 27. (Credit: IHB)
The Yunshui Scholarship Award Ceremony was held as part of the 90th anniversary celebration activities of Institute of Hydrobiology (IHB) of Chinese Academy of Sciences. The scholarship winner ZHANG Dong gave a lecture with the title of "Molecular evolution and phylogeny of fish-parasitic monogeneans and crustaceans" for IHB faculty and students on Oct. 27.
After graduating with honors, Zhang is working as a young researcher at Lanzhou University. In his presentation, he introduced the PhyloSuite platform, developed during his Ph.D. studies, for rapid and efficient phylogenetic and mitogenomic studies.
His other achievements include comparative mitochondrial genomics analyses and mitogenome-based phylogenetic analysis with monogeneans as the research object. The results revealed the evolutionary characteristics of the monogenean mitochondrial genome.
By discussing the controversial taxonomic relationships of monogeneans at different taxonomic levels (order, family, and subfamily), Zhang revealed adaptive mutations in mitogenomes in response to a lifestyle shift from ectoparasitic to endoparasitic.
Zhang's most recent work, which is an extension of his doctoral work, is on the evolutionary dynamics of crustacean mtDNA in combination with ecological characteristics of crustaceans. He proposed that locomotory capacity is the strongest predictor of skew magnitude in the mtDNA of crustaceans.
The one million Yunshui Scholarship, donated by WANG Wenzhao, was established in 2020, in recognition of students who graduate with honors.