IHB Signs Cooperation Agreement with MEE Yangtze River Basin Ecological Environment Supervision and Administration Bureau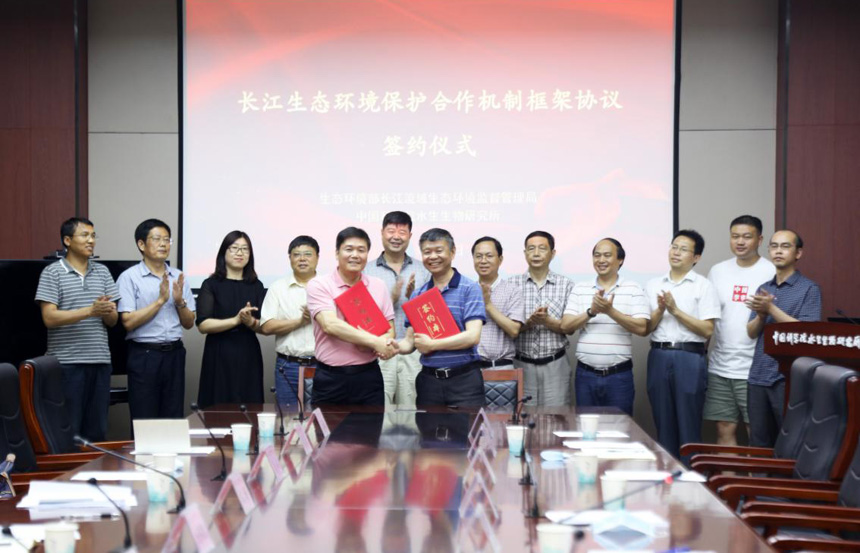 IHB signs a cooperative framework agreement with the Yangtze River Basin Ecological Environment Supervision and Administration Bureau under the MEE, June 8, 2021. (Credit: IHB)
The Institute of Hydrobiology (IHB) of the Chinese Academy of Sciences signed a cooperative framework agreement with the Yangtze River Basin Ecological Environment(YRBEE)Supervision and Administration Bureau under the Ministry of Ecological Environment (MEE) on June 8, 2021.
According to the agreement, IHB will join hands with the YRBEE Supervision and Administration Bureau to establish an ecological protection mechanism of the Yangtze River.
Both sides will deepen personnel exchanges, build platforms, and promote the application and sharing of achievements.
The agreement will help strengthen the protection and restoration of the Yangtze River ecosystem, and contribute to the high quality development of the Yangtze Economic Belt.
YIN Zhan, director of IHB, and XU Chong, director general of the YRBEE bureau, signed the agreement on behalf of the both sides.