CHEN Yushun, the newly elected director of Huai'an Research Center (Credit: IHB)
Prof. CHEN Yushun from Institute of Hydrobiology (IHB) of Chinese Academy of Sciences was announced to be elected the director of Huai'an Research Center which is affiliated to IHB, on October 15 in Huai'an, East China's Jiangsu province.
Chen will succeed Prof. XIE Songguang who served as the director for the past decade.
As a PI of the Research Group of Aquatic Ecosystems Health, Chen's research interests focus on fish and aquatic community ecology, water quality, habitat, and ecosystem health assessment and restoration.
Being elected, Chen gave a report to share his five-year development plan for the Huai'an Research Center, in which the opportunities and challenges that the Huaihe River Ecological Economic Belt and the Yangtze and Huaihe River Economic Zone have been facing were featured.
He proposed to develop technologies of water purification fishery in Lake Hongzehu, and construct demonstration centers for green aquaculture within the confines of the Lake Hongzehu.
He also said that studies would be conducted in ecosystem health assessment and water quality safety of the Lake Hongzehu, and restoration technologies of water ecology would be developed.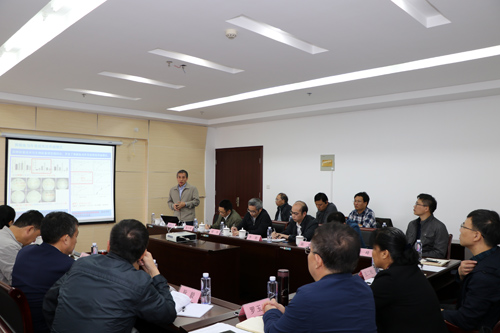 Prof. XIE Songguang reviews the achievements during his term at Huai'an Research Center, Oct. 15. (Credit: IHB)