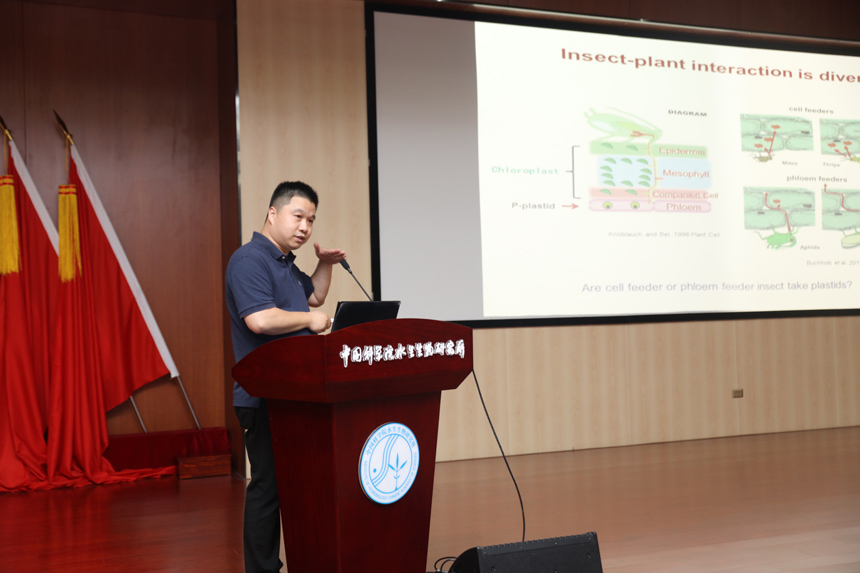 Professor ZHANG Jiang from Hubei University paid a visit to IHB on June 10, 2022. (Credit: IHB)
Professor ZHANG Jiang from Hubei University paid a visit to the Institute of Hydrobiology (IHB) of the Chinese Academy of Sciences on June 10, 2022. During his visit, he gave a lecture with the title of "Mechanism and application of plastid-mediated RNAi against insects."
Insects are an important constraint to high crop yields. Plant-mediated RNAi for insect control is considered a novel insect resistance strategy that is efficient, environmentally friendly and harmless to humans.
In his lecture, Prof. Zhang detailed the important innovations achieved in recent years. His team established plastid transgenic platforms for a variety of plants, created a new strategy for plastid-mediated RNAi resistance against insects and systematically investigated its applicability in different species of insects, and revealed that dsRNA enzyme is the key factor affecting RNAi responses in insects.
They also confirmed that siRNA is an effective molecule for plant-mediated RNAi against cotton bollworm, dissected how the intestinal bacteria synergizes with RNAi to kill insects, and developed a highly efficient broad-spectrum antiviral technology based on programmable enzymes.
Professor ZHANG Jiang is currently the vice dean of the College of Life Sciences of Hubei University, the executive director of Hubei Plant Physiology and Molecular Biology Society, the director of Hubei Entomological Society, the distinguished professor of Hubei "Chutian Scholars", and a leader of the Max Planck Partner Group.
Zhang has been conducting long-term research on basic theory and application of plant plastid engineering and cutting-edge biotechnology for plant protection. He has published more than 30 papers in journals including Science, PNAS, Molecular Plant as first or corresponding author.